QUALITY POLICY
Amaya provide products and services with Quality and Safety First policy,
that are satisfied by customers.
As well as the policy, Amaya develope new technologies for "Challenge Spirit"
and with "Ingenuity" to become "Only One" APCVD manufacturer.
Based on the above philosophy of business, Amaya specify the following quality policy and act in the manner.

【Quality Policies】
Amaya take more care of customer communication and provide high quality products and services met with customers' needs.
Amaya act in compliance with laws and codes and establish reliable business structure.
Amaya continuously improve quality management system by fulfilling continuous improvement and internal audit all employee join.
Amaya make more effort to educate ourselves with wide view and deep insight by absorbing new knowledge and intelligence.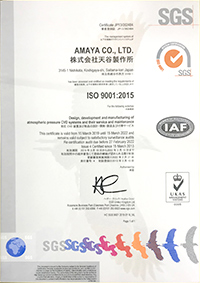 Amaya acquired ISO9001 certification for design. development, manufacturing of Atmosphric Pressure CVD System and their service and maintenance in March 2013.