Solar Cell Production Continuous High Volume APCVD for 125mm x 125mm cell and 156mm x 156mm cell.
AMAX1000S
1500 WPH at 156mm x 156mm cells
Metal addition Free design and Long Term Stable Process with SiC Tray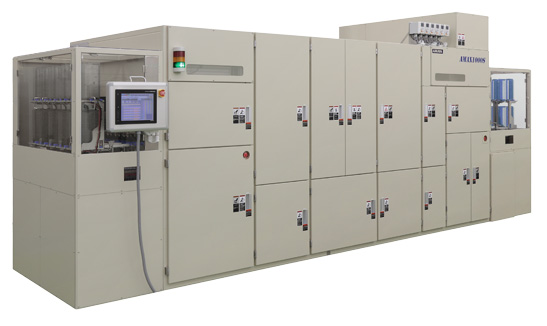 Feature
Meet with neeeds to process 125mm x 125mm or 156mm x 156mm Quasi Square Cells for High Volume Solar Cell Production.
Developped High Speed Double Arm Tray Transfer Mechanism, Special Dispersion Head and La,p Heating System to realize High Volume Solar Cell Production.
Special Wafer Pockets in SiC Tray is available.
Multi Level Berrunnui Chuck helps unloading cells efficiently and coolthem down.
Performance
Film Thickness Nu
≦±10.0%
Wafer Size
125mm x 125mm or 156mm x 156mm Quasi or Full Square
Gas
SiO

4

,O

2

, PH

3

, B

2

H

6

, N

2

 
Deposition Temp.
~430℃
Productivity
1500 WPH(156mm x156mm)
Specifictions
| | |
| --- | --- |
| System Size | 1860mm(W) x 5900mm(D) x 2100mm(H) |
| Heaters | Heater Coils and Lamps |
| Loader/Unloader | Loading VacuumChucks, Unloading Berrunuulii Chucks |
| Dispersion Head (Gas Nozzle) | Long Width Dispersion Head |